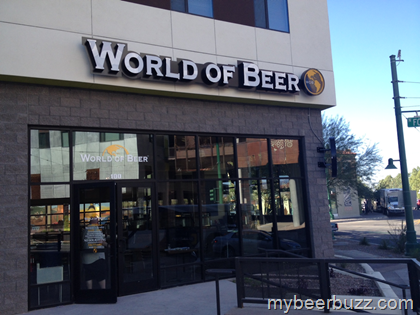 From World of Beer:
Tucson, AZ (October 23, 2013/mbb/)—Who's thirsty? World of Beer (WOB) Tucson is brewing up some fun in downtown Tucson with a grand opening celebration planned for Thursday, October 31. Doors open at 9 a.m. when all are invited to join the WOB family for a Chicken and Belgian waffle breakfast. Offering more than 500 craft brews from around the world, craft spirits and tavern fare, Arizona's second WOB location has found a cozy home at The Cadence, 350 E. Congress Street, Tucson, AZ.
WOB Tucson will boast over 500 bottles of beer and 50 rotating taps. A 1,500 sq ft patio compliments the 3,000 sq ft tavern, which is open from 11am – 2 am daily, with Tavern Fare served all day long. WOB Tucson will also be open from 9 am – 2 am on Saturdays and Sundays during football season. This location is proud to partner with all local Arizona breweries.
In addition to the grand opening party, WOB Tucson has a full weekend of events planned featuring local beer, football, cookouts and live entertainment. To check out all of the opening events at WOB Tucson visit https://www.facebook.com/wobtucsonaz/events.
"We are very excited to become a part of the growing craft beer scene in the Tucson community," said JP Watts, WOB Arizona Craft Beer Buyer. "We really look forward to bringing new and rare products into the local market!"
Watts was a pioneer in bringing 'WOB Culture' to Arizona with his involvement in opening WOB Tempe in 2012. Originally from the southeast where World of Beer originated, Watts grew to be very interested in the growing passion for craft beer. He now looks forward to the opening in Tucson with the full appeal of craft brews and Tavern Fare. The Tavern Fare menu is available from open to close and pairs wonderfully with the craft beer; it features flatbreads, brats and craft beer-infused appetizers. Healthier options such as soups and salads are complemented by hearty favorites like brat sliders and grilled cheese sandwiches.
The handcrafted cocktails include fun creations like the Hoti Mojito, MargarIPA and Gin N Jam. Each drink is unique to World of Beer and showcases the WOB culture by including craft beer in the cocktails themselves. In keeping with their founding philosophy, World of Beer is partnering with local distilleries to supply the handcrafted spirits to WOB Tucson.
"We are glad to open WOB Tucson with the great selection of craft beer that we are known for as well as our exclusively developed Tavern Fare and hand crafted cocktails," said World of Beer CEO Paul Avery. "We look forward to bringing new flavors to Tucson and can't wait to share it with everyone."
Happy Hour is held Monday through Friday from 4pm to 7pm. Monday is Service Industry Night and Tuesday is Loyalty Night. On Wednesday, enjoy WOB U, with special offers for students and faculty with valid ID. Thursday is Ladies Night and on one Sunday each month, WOB Tucson will host a Customer Appreciation Cookout. In addition to the weekly events, World of Beer hosts monthly brewery nights and spotlights, tap takeovers and beer-centric events celebrating the flavors of the season.
.