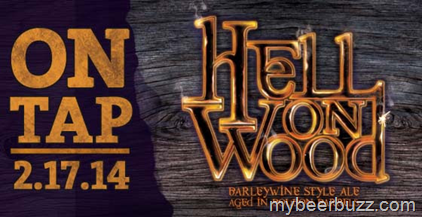 From DuClaw:
Hell on Wood


Our most popular seasonal beer ever, Devil's Milk Barleywine, is aged in Kentucky White Oak bourbon barrels to add notes of vanilla, caramelized sugar and charred oak to the beer's sensual fruit esters, mighty malt backbone and demonic hop presence. Come in for a snifter, but be warned: you will fall to the seductive power of Hell On Wood!
Available on draft at 11am, Monday, February 17th, while supplies last, only at DuClaw Brewing Company!
Bring the evil home – Hell On Wood is also available in 6 packs at a beer retailer near you!
.