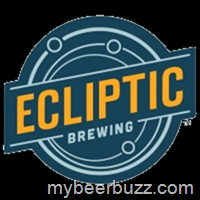 From Ecliptic Brewing:
Brewmaster John Harris announced today the opening date of 10/21 for the new Ecliptic Brewing in Portland OR.
Harris will open his doors and begin serving three Ecliptic beers, all brewed on-site in Ecliptic's 15-barrel brewhouse, and one collaboration beer brewed with Gigantic Brewing. Harris and Executive Chef Michael Molitor will also be unveiling Ecliptic's menu, which features local, seasonal fare and a heightened food experience.
Almost everything about Ecliptic Brewing pays homage to the brewery's name, and Harris's passion for astronomy. As Harris says, "Ecliptic Brewing is all about celebrating our journey around the sun." The seasonal menu will change every six weeks based on the old world Wheel of the Year; we are entering into Samhain otherwise known as Halloween, the season that signifies the end of the harvest and the beginning of winter in the Northern Hemisphere. The menu from Chef Molitor, formerly the sous chef at Pazzo Ristorante, will reflect the astronomical seasons and be further complemented by Harris' beers.
The first beer brewed at Ecliptic's facility was Procyon Pale Ale, named after the little dog star in Canis Minor. The other two Ecliptic beers available will be Arcturus IPA, named after the biggest star in the sky, and Capella Porter, named after the brightest star in the constellation Auriga. On opening day, Ecliptic will also be pouring Harris's recent collaboration with Gigantic Brewing, called TICWITTIC, an American sour wit.
The brewery is located at 825 N. Cook St. in Portland, Ore., and the 3000 square foot pub space features many subtle nods to the name Ecliptic Brewing. The centerpiece is a massive light fixture in the shape of the Analemma, or the shape of the curve representing the apparent motion of the sun in the sky, symbolizing the Earth's yearly journey around the sun.
"After many months of planning and building, I am very excited to see this project come to opening," says Harris. "I have been involved in this industry for many years and strive to bring the two hottest things in Portland right now together in a creative firestorm – beer and food. We want Ecliptic to be known for both, and will strive to bring them together like no one has."
Follow Ecliptic Brewing on Facebook for the latest brewery news and happenings, and www.eclipticbrewing.com will soon be live for more information on menu, beer, and hours of operation.
.