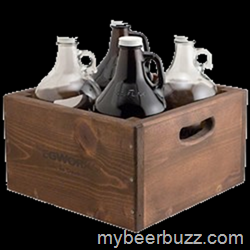 From KegWorks:
Buffalo, NY October 11, 2013/mbb/ –
Growlers come in a range of different sizes, styles, colors, makes, and materials, but at the base level, they're simply vessels for storing and transporting small amounts of draft beer. Buffalo-based bar and restaurant supplier, KegWorks, offers a wide variety ofdrinkware, and has been carrying growlers for six years now. They started with a simple clear glass growler that holds 64 ounces.
"The clear glass growlers are great for businesses and consumers alike," says Jason Rowley, KegWorks Category Manager. "They're easy to fill without worry of overflows and spills, and they're the cheapest option out there. The only problem with the clear glass option, is its susceptibility to heat and light and the possibility of breakage."
When beer is exposed to heat and light, it becomes what is commonly referred to as "skunky." If you don't have a cool, dark place to store your growlers, you might want to consider darker glass. If you want something that also ensures against breakage, stainless steel is the way to go.
Aside from the standard 64-ounce glass and stainless steel growlers, KegWorks also offers one-liter glass growlers, an old fashioned stoneware growler, leather growler holders, replacement caps, and growler filling tubes.
Rowley said the trend continues to grow. "We recently added two chalkboard growlers, Hydro Flask growlers, made for hot and cold beverages, and plenty of transport options." In addition to strapped tote bags and a car-carrier, KegWorks now offers two wooden tote options, which they build and brand in their own fabrication shop.
"It's pretty amazing," says Peter Milkie, KegWorks Draft Beer Expert. "When I first started home brewing, growlers were a thing only used in small circles of hardcore beer geeks. Now they're everywhere."
To learn more about KegWorks and explore their expansive selection of growlers and growler accessories, visit http://www.kegworks.com/pitchers-pints-growlers-and-accessories-1459.
.