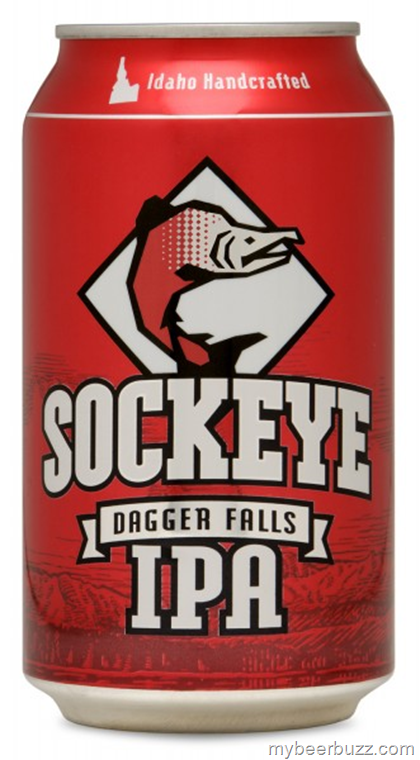 From Sockeye:
Boise, ID-January 17, 2014/mbb/. In 1935, The Gottfried Krueger Brewing Company began canning and selling Krueger's Finest Beer and Krueger's Cream Ale when they debuted their libations in Richmond, Virginia. The new package was a national hit and much like the craft beer movement today, the brewing company began dipping into the market share of the biggest American breweries of their time. Since then, consumers have been sipping suds in the metal containers across the globe. Back then American Can was supplying Krueger's with 180,000 cans a day. January 24th is National Beer Can Appreciation Day and Sockeye Brewing in Boise Idaho will be celebrating the comeback of the can.
On a recent visit to the Sockeye's final canning run of their seasonal Winterfest brew, Joe Prin shared his knowledge of Idaho's history of the canned craft. He is a proud member of the Brewery Collectibles Club of America. And is a local connection to brewery canning trends of the past and present. "The only breweries in Idaho to can their beer were East Idaho Brewing Company in Pocatello, who produced Sun Valley Beer and Aero Club Ale in cans, and the Bohemian Brewery in Boise. The beer cans were sold mainly in the 1950's." They were illustrated to draw attention to Idaho with a nod to our most famous ski area, to the military, and to classic label designs. All three were cone top beer cans and are highly collectible today, especially if you find one without rust and still capped. The old East Idaho Brewing Company building is now home to another brewpub, The Portneuf Valley Brewing. Bohemian Brewery produced beer in cans at the same time and was in downtown Boise. "Bohemian was located in the 6th and Main area where City Hall is today. I was told you could actually get your mug and pull a beer from the taps they had on the side of the building." Bohemian Brewery closed in 1962 and Idaho was without any breweries until 1984 when Tim Batt started Snake River Brewery in Caldwell just west of Boise. Slowly, more breweries began opening around our state throughout the eighties and nineties. The last few years, following national trends, Idaho has seen an explosion in new breweries opening and today, there are 36 breweries in the state, more than ever in history. "Sockeye was the first to install a canning line in their brewery and to sell their Idaho beer in cans since Bohemian closed." Joe has been an avid supporter of the Boise beer canning scene and will purchase cases of our Idaho brews to send empty cans around the country to fellow collectors. "Sockeye Brewing has been in just about every issue of our national magazine since the first Dagger Falls IPA can came out in the fall of 2012." Sockeye was also the first Idaho brewery in history to use vinyl sticker labels, and since the switch to entirely printed cans, each new printed addition makes the older stickerd versions collectible as well. This is the case with the labelled Winterfest cans now on shelves for their last season, and why Joe came to document the new prints for the BCCA.
On Friday, January 24th, Sockeye Grill and Brewery will be celebrating Beer Can Appreciation Day by selling single cans at the pub, typically only available in six packs to-go, for $2 with a Sockeye Brewing koozie can holder to keep. Styles available in cans for the special deal will be Dagger Falls IPA, Hell Diver Pale Ale, Power House Porter, Woolybugger Wheat and Galena Gold. Joe Prin is expected for a guest appearance with a few relics from beer can history.
.