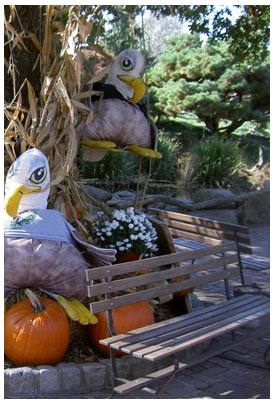 As the crisp air of autumn freshens your hair and lifts your spirits, prepare something to keep you warm inside with the added zest of pumpkin ale. Fruits and spices in the form of sweet muffins serves as a luscious treat for breakfast, a mid-morning snack, or as a warm accompaniment with roasted turkey with gravy. Take a little time to slow down from the hasty routine with this old-world recipe. Spread with Apple Butter or Orange Marmalade for that extra hint of homemade.
Spiced Autumn Muffins with Pumpkin Ale Recipe
Ingredients:
3 cups whole wheat flour
¾ cup brown sugar
¾ cup white sugar
1 tablespoon baking powder
½ teaspoon baking soda
2 teaspoons ground cinnamon
1 teaspoon ground ginger
½ teaspoon ground nutmeg
½ teaspoon salt
1 cup butter, melted
2 eggs, loosely beaten
¾ cup buttermilk
½ cup Weyerbacher Imperial Pumpkin Ale
1 cup dried cranberries
1 cup peeled apples, chopped
½ cup dried raisins
¾ cup chopped walnuts or pecans
White sugar to garnish
Directions:
Preheat oven to 375° F.
Prepare muffin pans. Use muffin liners or lightly spray with cooking spray.
In a large bowl, blend together dry ingredients: whole wheat flour, brown sugar, white sugar, baking powder, baking soda, cinnamon, ginger, nutmeg, and salt. Make a well in the center. Add melted butter, eggs, buttermilk and Weyerbacher Imperial Pumpkin Ale. Blend until smooth.
Fold in dried cranberries, apples, raisins and chopped nuts. Fill muffin tins ¾ full with batter. Sprinkle tops with white sugar garnish.
Bake 15-20 minutes in preheated 375° F. oven until lightly brown, or toothpick inserted in center comes out clean.
Serve warm with assortment of apple butter, jams, or marmalade. You may also enjoy with whipped cream cheese or whipped butter.
Note: If Weyerbacher Imperial Pumpkin Ale is not available in your area, substitute with another Imperial Pumpkin Ale with lots of spice. Bourbon barrel aged styles work well with this recipe, too.
Cheers!
Need muffin tins? Choose baking products that are up-to-date!
Grazia® PREMIUM Silicone 12 Cup Muffin Pan – 100% Food Grade Silicone Muffin Cupcake Baking Pan – Absolutely Non-Stick, Extremely Easy To Clean, Safely use in In Oven & Microwave, Dishwashersafe or pop into Freezer – Heat Resistant Up To 450°F – All with a 100% Lifetime Guarantee!!
Drink your beer out of a glass that will enhance every characteristic of your beer:
Spiegelau Beer Classics Beer Connoisseur Gift Set, Set of 4