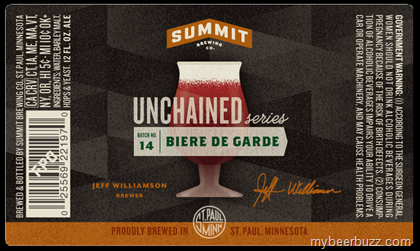 We brought you a peek at this beer back in July, and now the official release details from Summit Brewing for their Unchained Series # 14 Biere de Garde:
Summit Brewing announces the release of Bière de Garde, the fourteenth beer produced in its limited release Unchained Series. Bière de Garde is Jeff Williamson's first Unchained brew, as well as the first Unchained beer to feature Summit's new label art. It will be available in draft and bottles the week of October 28, just in time for the chilly autumn months.
"This French style Bière de Garde is a tip of the chapeau to all the explorers, trappers, and traders who traveled through this area long before Minnesota was a state," says Brewer Jeff Williamson. "Their influence is still seen in the name of our towns, counties and waterways. Even the motto on the Minnesota flag is in French: 'L'Étoile du Nord,' or 'The Star of the North.'
This classic French farmhouse style ale is rarely seen fresh locally. Using the best French and Belgian malts, Jeff's brew entices you with a malt aroma of toffee, cherry and other goodies. The malt theme carries through to the tastes, offering up more toffee, cherry, figs, caramel, and a hint of biscuit. Subtle hop spiciness plays amongst the flavors and it finishes crisp and dry. The hearty ale pairs well with bon fires, roasted meats and good friends.
The Unchained Series, which saw its first batch in 2009, allows each of Summit's individual brewers to showcase their creativity by allowing them to break free from the norm and create their own beer. "We're fortunate to have eight phenomenal brewers at Summit," said Mark Stutrud, founder and president of Summit Brewing Company. "The Unchained Series is a way for our brewers to showcase their artistry. There are no budgetary restraints, no outside influences from a sales team, and the brewers are free to collect ingredients from anywhere in the world. As long as it's legal, they have complete autonomy."
Bière de Garde
Malts: Pilsen Malt, Special Aromatic, Biscuit, Vienna, Carared, and De-bittered Black
Hops: Strisselspalt from France
ABV: 7.3%
IBUs: 26
Yeast: Scottish Ale
.